---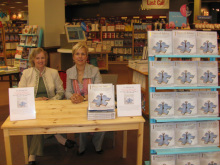 Patricia and Barbara have appeared extensively on radio and TV in both Canada and the US. Below is a small sampling of the articles, that have either been written by them or about 1 Piece of Advice, and clips from some of the their presentations.
Articles
---
Presentations
Patricia inspired the Women in Supply Chain group at General Mills on June 4 -- Mapping your Way to Success: Women Leading Today and Tomorrow.
Patricia presented to a sold out crowd on Negotiation for Women: You don't get what you deserve, you get what you negotiate on March 5. Stay tuned for clips from that presentation and details on a workshop to follow.
Patricia Moser speaks to the Women in Logistics group at the annual Supply Chain Leadership Forum
Patricia and Barbara speak at a conference -- Mapping Your Way to Success -- view a portion of the speech below
1 Piece of Advice wins Bronze medal from the Independent Book Publishers Read the news release by clicking here

Sampling of Endorsements
(Please note that some of the information has been edited to ensure confidentiality of personal information)